Welcome to Hilltop & Crestmoor
Hilltop and Crestmoor are two beautiful and quiet neighborhoods characterized by magnificent architecture, mature tree-lined streets, and active parks and schools. Sitting higher in elevation than many other Denver neighborhoods, views of the Rocky Mountains can be seen from the flagstone terrace in Cramner Park.

The neighborhoods are characterized by large lots with deep setbacks and original Tudor-style homes or large new-build homes designed to meet the needs of today's families seeking more indoor and outdoor space without sacrificing proximity to Downtown. While the streets in Hilltop follow a typical grid pattern with a slight jog in between 3rd and 4th Avenues, Crestmoor streets are curved creating unique lots of different shapes and sizes.

​​​​​​​Cramner Park, located at 1st and Bellaire, is the center of activity for the Hilltop neighborhood with fields for organized and not-so-organized sports. Cramner Park is also famous for a large astronomical sculpture or sundial which sometimes functions as a climbing apparatus for kids.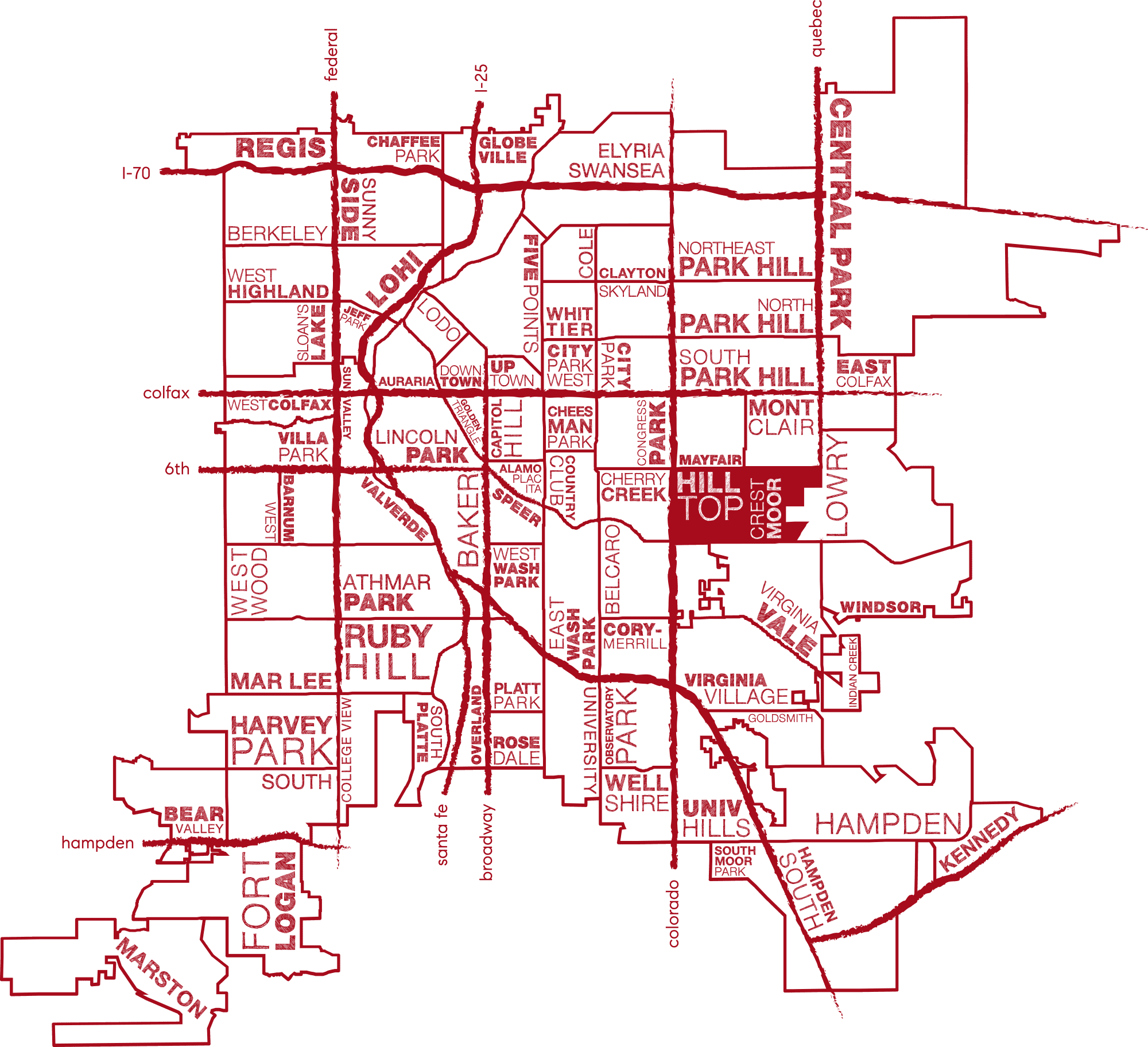 Crestmoor Park, as its name suggests, is the hub of the Crestmoor neighborhood with an abundance of areas for activities including tennis courts, softball fields, a playground, and a soccer field. During the summer months, residents gather for movies in the park. On the southwest corner of the park is the Crestmoor Community Association (CCA), a private tennis club that is open during summer months with three swimming pools and six tennis courts as well as plenty of room for private events.

The neighborhoods are mostly residential, but a small retail area at the corner of Holly and Cedar is walking distance for most residents and is an essential destination for burgers or ice cream! The proximity of Hilltop and Crestmoor to Colorado Boulevard also provides residents quick access to TraderJoe's, Snooze, and the rest of the City!