Welcome to Mayfair & Montclair
Situated between Congress Park and Lowry on the east side of Colorado Boulevard, the Mayfair and Montclair neighborhoods provide a great option for buyers who want larger lots at more affordable price points than what surrounding neighborhoods like Congress Park or Park Hill can offer.

Mayfair was the historic home of the University of Colorado Hospital and the Veterans Administration Hospital located at 9th and Colorado Boulevard. The relocation of these two major hospitals to the Anschutz Medical Campus in Aurora left the Mayfair neighborhood with a large 26-acre site and 3 million square feet of empty buildings. After a neighborhood squabble prevented big-box chains from dominating the redevelopment plan, a new vision was created to integrate the site into the surrounding residential area incorporating smaller-scale retail, office buildings, public green spaces, and new housing options. While the 9th and Colorado redevelopment provides a much-needed hub for the Mayfair neighborhood, the majority of the neighborhood is comprised of smaller bungalows, Tudors, and ranch-style homes on large lots.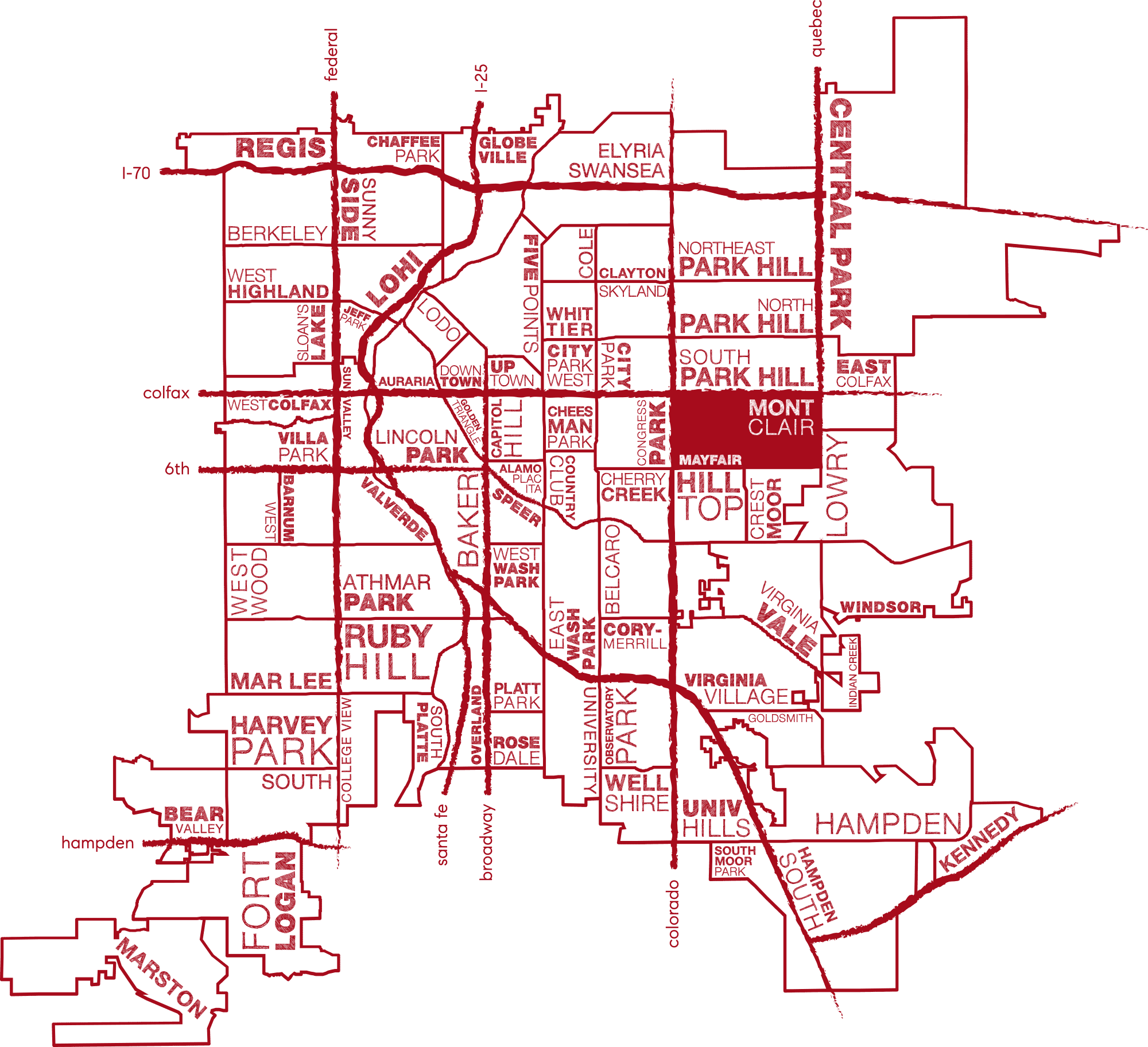 ​​​​​​​Across Holly from Mayfair, the Montclair neighborhood was originally developed in the late 1800s as a wealthy suburban Denver community, designed to attract sophisticated Denverites who wished to escape the bordellos and saloons of the City. To ensure the only "proper" residents were able to afford homes in Montclair, the original developers created lots that were twice the size of standard Denver lots and stipulated that homes must be a minimum of 3 stories and either clad with brick or stone. Today, the Montclair neighborhood is characterized by grand old trees, large lots, and distinctive houses, including nineteenth-century Victorian and Queen Anne Style architecture. During the 20th century, however, these large original homes were joined by smaller bungalows, cottages, Tudors, and modern Ranch-style houses offering today's residents a wide array of home styles. Residents of Montclair enjoy three parks, a public Rec Center complete with swimming pools, tennis courts, racquetball courts, and exercise equipment as well as easy access to shops and restaurants in the Lowry Town Center.