Welcome to Northwest Denver
Northwest Denver was originally the City of Highlands prior to its annexation in 1896. The area is now comprised of nine separate neighborhoods.
​​​​​​​
Lower Highland

The Lower Highland neighborhood or "LoHi" is located northwest of downtown across I-25. LoHi is popular for its close proximity to Downtown Denver and the Central Platte Valley with a walkable connection via the Platte River Bridge and the Denver Millennium Bridge. High-density zoning and a plethora of trendy bars and restaurants have helped to spur residential development in the neighborhood creating a unique mix of new modern condo buildings and townhomes sitting alongside original Victorian and bungalow-style homes. The Potter Highlands Historic District is located in the northwest corner of LoHi and provides about 30 blocks of historic homes from two distinct periods within walking distance of the LoHi action.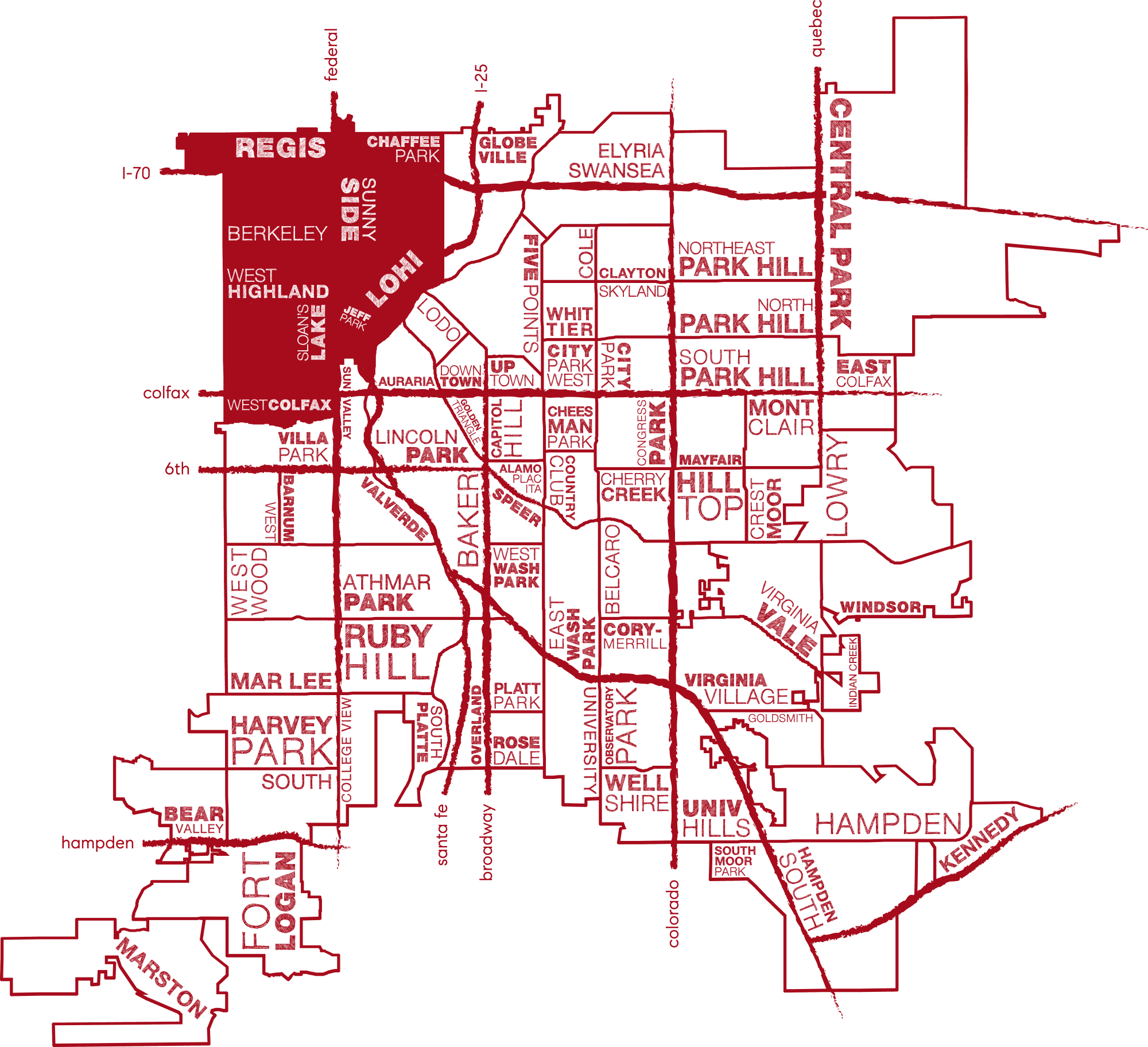 West Highland
West of Federal Boulevard from LoHi is the West Highland neighborhood. Lower-density zoning and three large historic districts have helped to preserve this neighborhood's original architectural character relative to the other Northwest Denver neighborhoods who have undergone rapid redevelopment recently. Bungalow-style homes, Victorians, Tudors, and some Mansions are intermixed with relatively few pop-tops, new condo, and townhouse developments. This mixture of housing styles attracts a wide variety of residents from families to singles to empty-nesters who all feel at home in the West Highland neighborhood.

Highlands Square, located at 32nd and Lowell, is at the center of the West Highland neighborhood and is overflowing with trendy restaurants, bars, and shops all within walking distance from the surrounding residential streets.
​​​​​​​
Berkeley

The Berkeley neighborhood is north of West Highland across 38th Avenue. Originally established as Berkeley Farm in 1879 by John Brisben Walker, a businessman, and developer, the neighborhood spanned over 1,500 acres. The neighborhood was advertised as a healthy alternative to city living with cleaner air, an abundance of water, and easily accessible public transportation. Officially renamed Berkeley in 1898, it was occupied primarily by the middle and working classes. Development within the neighborhood was stagnant until the 1950s and 1960s when expansion occurred.

​​​​​​​Today, the affordable bungalows and ranch homes, eclectic businesses, and a thriving arts community have made Berkeley an attractive neighborhood for homeowners and developers alike. The parks and lakes in northern Berkeley are an additional reason for the neighborhood's growing popularity. Berkeley Park offers a sheltered picnic area and pools while Rocky Mountain Park boasts fields for sports and activities. The neighborhood has a diverse collection of art galleries and hosts the First Friday Art Walk every month on Tennyson Street. In 2010, Denver voters approved the Tennyson Corridor Development Plan which included $2.5MM of funds to improve lighting, sidewalks, streets, and streetscapes on Tennyson Street's commercial district.


Sunnyside

The Sunnyside neighborhood is one of the more affordable neighborhoods in Northwest Denver conveniently located north of LoHi and east of Berkeley with easy accessibility to I-70 and light rail at 41st and Fox. Sunnyside's mature, tree-lined streets, diverse mix of residents, and mostly brick-clad bungalow-style homes make it appealing to a wide variety of buyers looking to move into an up-and-coming neighborhood with historic charm as well as urban convenience.
Chaffee Park located at 44th and Tejon provides a central open space for residents year-round and also hosts the annual Sunnyside Music Festival which began in a neighborhood couple's backyard in 2000 and has since grown into a Northwest Denver mainstay with over 200 volunteers!
​​​​​​​

Sloan's Lake

The Sloan's Lake neighborhood is home to Denver's most beautiful lake with views of Downtown from one shore and views of the Rocky Mountains from the other. The lake is 177 acres and the surrounding park is the second-largest park in Denver, behind City Park. Typical activities at Sloan's Lake include walking, jogging, and bicycling on the sidewalk that loops the lake, and fishing, boating, and water skiing on the lake itself. There are basketball and tennis courts located in the park and an annual event known as the Dragon Boat Festival attracts thousands of visitors each summer.

​​​​​​​The neighborhood has a wide range of housing styles including 1920s bungalows to new, post-modern architecture. The neighborhood has easy access to retail along with Federal and Sheridan Boulevards as well as the trendy shops and restaurants located in Highlands Square just 10 blocks north.
​​​​​​​

West Colfax

The West Colfax neighborhood is undergoing rapid change due to its developer-friendly zoning and spurred on by the large redevelopment of the former Saint Anthony's Hospital campus which was vacated in 2011. Buyers are drawn to the West Colfax neighborhood for its close proximity to downtown, easy access to Sloan's Lake, and newer construction options at lower prices than can be found in other Northwest Denver neighborhoods.
​​​​​​​

Jefferson Park

One of the last Northwest Denver neighborhoods to experience rapid redevelopment, Jefferson Park is a small neighborhood located just south of LoHi and just north of Mile-High Stadium. Jefferson Park was a long-ignored area of the City, but it's high-density/mixed-use zoning and only one tiny historic district have encouraged developers to line its streets with new townhomes, apartment buildings, and condos attracting young residents looking for newer construction homes at reasonable prices close to Downtown.
​​​​​​​

Regis

Located just across I-70 and north of Berkeley, the Regis neighborhood is anchored by Regis University in the northeastern corner of the neighborhood and by the Willis Case Golf Course and Inspiration Point Park on the western side. The majority of the neighborhood is zoned for single-family homes, however, Lowell Blvd at 50th has more dense zoning allowing for new townhomes and retail establishments.
​​​​​​​

Chaffee Park

The Chaffee Park neighborhood is located east of Federal Blvd from the Regis neighborhood and north of I-70 from Sunnyside. Despite its name, the largest park in the neighborhood is Zuni Park while Chaffee Park is actually located in the Sunnyside neighborhood. The majority of the neighborhood zoned for single-family housing with retail along Federal and industrial on the east side of the neighborhood along the railroad tracks. Just north of the neighborhood on Zuni Park (Adams County but the City of Denver) townhomes are now available offering more density and newer construction options for buyers.